Survey reveals the 40 most satisfying DIY jobs to do during lockdown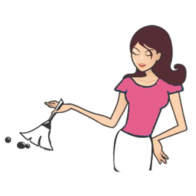 It's interesting to see how people have adapted to life in lockdown since it all began. With many people suddenly finding themselves with way more free time than usual, some have simply whiled away the hours with movies and games, while others have gotten creative, painting pictures and writing stories.
Others have chosen to do a little DIY to pass the time in a productive and practical way, and a recent survey of 2,000 British adults, carried out by UK-based company Drapers Tools, has discovered the top 40 DIY tasks that people are finding to be the most satisfying during lockdown.
Some of these tasks are pretty simple, like using a measuring tape or planting a seed, while others are a little more in-depth such as peeling wallpaper from the walls or trimming garden hedges. Other entries on the list, like "Watching paint dry", are a little surprising, but this just goes to show how people can find satisfaction in the simplest of things!
"That's the great thing about DIY – the jobs are as big or as small as you want them to be," said Kev Smith of Draper Tools, adding, "While not all of them are satisfying while you're doing them, there is always satisfaction to be had at the end of a project."
Smith definitely makes a good point there, and the results of the survey are quite fascinating, shedding some light on what people are getting up to while cooped up in their homes. Around 70% of people are planning to start some kind of new DIY project, such as redecorating one of their rooms or tearing down a wall, in the weeks and months ahead, while around 1 in 3 surveyed people said that DIY was one of their favorite ways to pass the time.
So if you're looking for a little inspiration or something to pass the time in the days and weeks ahead, here are the 40 most satisfying DIY tasks:
Adding oil to a noisy door hinge
Putting on the final coat of paint
Hanging a picture just right
Painting a fence
Using a paint roller
Clearing away weeds
Using a jet washer on the patio
Putting a piece of flat pack furniture in the perfect spot
Mowing your lawn
Planting seeds and bulbs
Tearing down walls
Trimming a hedge to perfection
Hammering nails into a piece of wood
Putting a shelf at just the right angle
Applying wallpaper so it lines up just right
Making perfect lines while painting
Repairing something using glue
Polishing a surface until it shines
Peeling off wallpaper
Filling holes with spackling paste
Cleaning your paint brushes
Sawing some wood
Sanding a piece of wood
Applying varnish to a piece of furniture
Using power tools
Using a measuring tape
Finding the right screw/nail in your toolbox
Removing a screw that lost its thread
Organizing your tools
Using a drill
Repairing a crooked shelf
Sowing some grass seed
Cutting a tile to make it fit just right
Using sealant
Laying some grass turf
Planing a piece of wood
Applying plaster for a smooth finish
Repairing a floorboard that wasn't quite right
Laying a patio to perfection
Watching paint dry
Which of these DIY jobs sounds most satisfying to you? Will you be giving any of them a try?
Please SHARE this with your friends and family.
Source: Country Living, Independent