Dog sleeps with autistic "brother" and comforts him when he has nightmares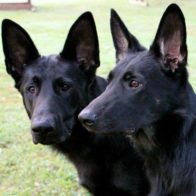 Service dogs fill a variety of roles in the lives of the people who rely on them every day. But, who would have thought that a service dog could help chase away nightmares? That is exactly what one service dog, named Lego, does for his young charge.
Tupper has trouble sleeping without Lego
Tupper Dunlop was diagnosed with autism spectrum disorder (ASD) at the age of two. One of the effects of his autism is that Tupper can't sleep without having nightmares. According to his mom, Nancy Dunlop, before Lego came along, Tupper would only get between three and six hours of sleep a night. He would sleep fitfully, waking every 20 to 40 minutes due to the nightmares he was having.
"Lego settles him and cuddles with him during the night so we, as parents, don't need to wake up multiple times a night," Dunlop told The Dodo.
Lego helps Tupper with his nightmares
Once Lego entered Tupper's life he has slept much better. Now, whenever Lego detects Tupper having a nightmare, he will snuggle up against him and wrap himself tightly around him. This seems to chase the nightmares away, allowing Tupper to fall back to sleep without waking.
"Now he sleeps eight to 10 hours a night," Dunlop says. "Most nights straight through."
Lego does way more than just help Tupper with his nightmares
The family, from Winnipeg, Canada is grateful for Lego. Not only does he help Tupper deal with nightmares at night, but he also helps to calm him if he starts having episodes during the day. This self-destructive behavior includes such activities as Tupper banging his head against the wall, or scratching or biting himself. All it takes is a nudge from Lego and Tupper stops.
Lego also helped Tupper's parents keep up with him when younger
It is this compression technique that allows Lego to help calm Tupper when he gets upset, whether asleep or awake. Lego was especially helpful to Tupper's parents when Tupper was younger, helping his parents to keep the young boy in check.
"Lego is learning to chase down and contain Tupper to give us time to catch him," Dunlop says. "Lego helps to interrupt Tupper when things are leading to a meltdown and helps to calm him when stressed."
MSAR Service Dogs
As for his training, Lego received that from MSAR Service Dogs. Costly and extensive, the training couldn't account for the ease in which the two developed a relationship. It was uncannily natural in how quickly the bond developed between Tupper and Lego.
Service dogs, like Lego, help disabled people lead more independent lives. As such, they often go through an extensive training schedule that can last anywhere from six months to a year and includes training in obedience, commands, and skills related to the disability of the person they are serving.
Where can you learn more about Tupper and Lego?
For more on Tupper and Lego, visit their Facebook and Instagram pages. Here is a video of Tupper and Lego snuggling in for a much-needed nap.
Please SHARE this with your friends and family.