Dog trainer arrested after it is found that he starved and abused dogs at his facility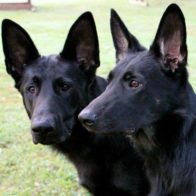 A Woodstock, Illinois dog trainer was arrested and put in jail. The 37-year old faces charges of abusing and starving dogs at the facility that he runs. Ryan M. Thomas, who operates Practical K9 was arrested after deputies with the McHenry County Sheriff's Office investigated a complaint they received.
Animals are found in a state of starvation and neglect at the facility
At the time of Thomas's arrest, workers with the McHenry County Health Department said that a total of seven dogs and two cats were removed from the property on violations of caregiver duties. The McHenry County Health Department also released a statement on the violations:
"Animal owners/caregivers are required to provide a sufficient quantity of good quality, wholesome, food and water, adequate shelter and protection from the weather, veterinary care when needed to prevent suffering, and humane care and treatment."
An owner speaks out after her dog is abused
One of the dog's owners, Regina Pishchanskaya, posted on her Facebook page about her dog's abuse at the hands of Ryan, "Ryan Thomas with Practical K9 has starved my puppy to nearly death and stolen two of my puppies."
Pishchanskaya also posted photos to her Facebook showing the condition her dog, Abigail was in when she got her back from Practical K9. One of the posts showed a before and after photo of Abigail as well as a picture of Thomas. So far, the post has received over 2,000 shares.
Other owners come forward with tales of abuse
Other dog owners also stepped forward with their tales of horror after getting their dogs back from Practical K9. Naperville resident Sean Arnold posted on his Facebook about his experience with the training facility. He noticed that his puppy was dehydrated, malnourished, and neglected. She also had numerous sores on her body after spending four weeks at Thomas' facility.
"I noticed she had a choke collar, her regular collar, and a shock collar on (I knew about that per the training) and they were all deathly tight… I started petting her, and literally felt all bone," Arnold said.
Thomas is released pending a court hearing
The McHenry County Sheriff's Office declined to comment on the case as it is an ongoing investigation. The sheriff's department deferred any questions to the McHenry County Animal Control and Adoption Center. Thomas posted bail and was released from jail. He is set to appear in court on the charges later in December. He could face further charges in addition to the ones he already faces.
What you can do if you see an abused or neglected animal?
If you notice animal abuse, you should take specific steps when reporting it, including assessing the abuse that is going on, evaluating your best course of action, finding someone to back you up, and talking to the person performing the abuse. Maybe they are ignorant of their actions. If you feel that the abuse is especially bad or the person might become violent, call the authorities instead.
Here is a video with more on what is considered animal abuse and what you should do if you see it happening.
Please SHARE this with your friends and family.