Ginger cat has the cutest conversations with his human dad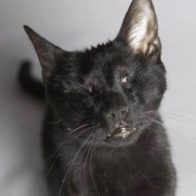 Did you know that cats "meow" to communicate with us exclusively?
It's rare to hear cats cats "meowing" to each other. If you own more than one cat, chances are, you have already noticed how cats only "meow" when they're talking to us.
They communicate with other cats using movements, scent, and other sounds. According to Moderncat, however, meows are:
"First uttered by kittens when in need of their mothers, this juvenile vocalization fades away as wild cats mature. But, as cats in domesticity tend to think of themselves as our eternal offspring, they maintain this endearing vocalization throughout their adult lives. "
In general, a cat that meows want something from you. Most likely, it's hungry, tired, welcoming you when you get home, or it simply wants your attention.
A meow isn't just a meow!
If you pay attention to your cat, you'd be able to understand what each meow means. According to studies, the length of the meow tells a lot. Short meows, for example, may mean that your cat is saying "hi" or is trying to get your attention. A high-pitched meow can show that your cat is angry, annoyed, or even in distress.
People who have cats may have already come across pets that are rather "talkative" and have many different types of "meows". So, does this mean there can be other meow meanings that we don't know of?
As it turns out, cats can choose to communicate with us about more than just their needs. A cat can create meows with different tones, pitches, sounds, lengths, and even answer back when asked.
Meet Kermit, a beautiful ginger cat who loves having cute conversations with his fur dad, Javier Negrete.
In the first part of the video, you see Javier or "Javi" sweetly asking Kermit if he had a good dream, and his cat responds with a short meow as if saying "yes".
It's really sweet, and Kermit also answers Javi with different meow tones that help Javi understand what he means.
"I would look over at him and I would be like, 'Good Morning!' and he'd just look at me and meow back, and I'm like, 'Uh, that was a good morning too!'" Javi told The Dodo.
Javi shared that before he decided to adopt Kermit, he was dealing with some trauma, and even though he was undergoing therapy, it wasn't working as well as he'd hoped.
That's when Javi's mom suggested that they should try and adopt a cat.
"Even going through therapy," Javi told The Dodo, "there was just that moment where you're talking to someone and they're saying all the right things, but you don't want them to say the right things."
Having Kermit changed Javi's life for the better. For him, having Kermit meant having someone to talk to who will always listen but never judge. It was a bonus that Kermit would answer back and engage in a conversation with him.
In each clip, you can see just how cute their conversations are. Even Kermit's "meows" have different tones and each response is unique.
Indeed, Javi and Kermit's bond is super sweet – and their relationship teaches us that it's not always humans who change a pet's life for the better. Sometimes, we are the ones being rescued by them.
Don't forget to watch their cute conversation below and of course, follow this adorable duo in their TikTok and Instagram account.
Please SHARE this with your friends and family.
Source: The Dodo, mrkermitmeow Instagram, mrkermitmeow TikTok, Moderncat