Bear, a "koala detection" dog, is helping save koalas in the Australian bushfires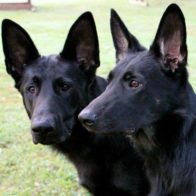 The Australian fire season of 2019/2020 has devastated areas all along the coast of the country. It is estimated that more than 1 billion animals have died since they began in September 2019. One of the species affect ed by the wildfires include Koala bears, a marsupial native to the country. Fortunately, specially trained search-and-rescue-dogs are helping to save stranded koalas.
Bear works to save koalas trapped in fire-devastated areas
One dog, named Bear, started life as a rescue animal but has become something of an Internet sensation after it was discovered that he had the special ability to detect Koalas min the wild. He is currently working alongside firefighters and rescue workers in New South Wales and Queensland to find koalas trapped in the wild.
The IFAW
Bear works with the International Fund for Animal Welfare (IFAW), which works to improve the living conditions for animals and people around the world. The organization's work in the area has been crucial to rescue efforts to save wildlife such as the koala.
"We haven't had fires of this scale and intensity before, so we are in uncharted territory," Mathew Crowther, an associate professor at the college who specializes in wildlife ecology and management, told ABC News in an email. "It may take a long time for the ecosystems to recover, and some may not be the same, particularly if they have lost species."
Devastating wildfires
So far, at least 25 people have lost their lives due to the horrific wildfires which have swept the Australian coastal areas. With over 15 million acres burned since the Australian fire season started, officials only look for the situation to become more dire. Due in part to global climate change, the fire season in Australia is becoming more severe with each passing season.
Bear becomes an Internet sensation
Bear has even gotten the attention of celebrities, such as Tom Hanks. Hanks has called for a movie to be made of Bear's life story after seeing his story go viral online. Exposure such as this can only help the cause when it comes to training even more dogs to help find animals trapped in areas affected by wildfires.
Other search-and-rescue dogs answer the call for help
In addition to Bear, search-and-rescue teams across Australia are joining the effort to help wildlife affected by the Australian bushfires. One dog, named Taylor, uses her snout to track koalas trapped in trees in the devastated areas. She does this by detecting their poop, which they leave behind in the trees that they occupy. Humans then come in and look for the koalas in the trees Taylor marked.
A race against time
Bear, Taylor, and a multitude of other dogs are racing against time to save koalas stranded in the fire devastated areas. Koalas, which are already on the verge of extinction, need all of the help that they can get to continue to survive. To donate to efforts to save the wildlife of Australia, visit the International Fund for Animal Welfare donation page.
Watch this video for more on Bear and his efforts to save the wildlife affected by the Australian bushfires.
Please SHARE this with your friends and family.