Retired K9 proves he's still a hero, saving the lives of two toddlers in burning home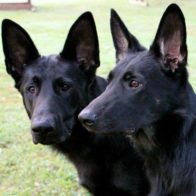 A police K9's dedication to duty never stops, even in retirement it would seem. While responding to a housefire, Seminole County Fire Department firefighters were surprised to get help from an unlikely source, a retired K9 Officer from the Seminole County Sheriff's Office named Maxx.
Seminole County firefighters respond to a house fire
Seminole County firefighters arrived on the scene after being called to the house by a neighbor. The caller phoned 911 after he noticed that flames had overtaken the backyard patio of his neighbor's house.
"The whole back of the house is engulfed," the caller informed the dispatcher.
Everyone worked together to help the family
Neighbor Chip Dover helped to get the family out of the burning home. He used a piece of patio furniture to break one of the windows. From inside of the home he could hear a woman, Margo Feaser, call out. Dover and his son were able to get her to come to the window where they helped her safely escape. Unfortunately, her husband and two children were still in the home.
Maxx springs into action
As firefighters arrived on the scene, Maxx, a retired K9 Officer with the Seminole County Sheriff's Office, sprang into action. He led the firefighters through the smoke-filled hallways of the home to the children's location. The young children were then removed by firefighters and taken to safety outside
The family is lucky to be alive
Maxx, A German shepherd, then helped rescuers find Feaser's husband, who the firefighters were able to successfully get out of the burning home. Without Maxx's heroic efforts, things could have been a lot worse. The family did suffer injuries ranging from stable to critical and were transported to an area hospital for treatment.
Maxx gets treated for his injuries
Maxx also was hurt, suffering from smoke inhalation. While his family was being treated, he was transported to a nearby veterinary clinic where he received treatment as well.
The Seminole County Sheriff's Office thanks all of those who helped
Feaser is a deputy with the Seminole County Sheriff's Office. Sheriff Don Eslinger was grateful for everyone who helped the family during the fire, releasing a statement:
"We are grateful to the neighbors who jumped into action, and we especially thank the firefighters who selflessly entered the burning structure and risked their lives for the Feaser family.
"There is a long road of recovery and rebuilding ahead, but our Sheriff's Office family will be with Margo and her family every step of the way. We know our community is behind them too, and we appreciate the tremendous outpouring of support the family has received."
Here is a video with more on Maxx's heroic actions as he helped the Seminole County Fire Department first responders rescue his family.
Please SHARE this with your friends and family.