New spiked vest protects dogs from being hurt by coyotes or carried off by hawks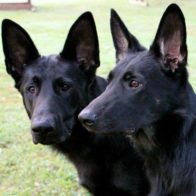 Launching in 2015, the CoyoteVest has become a lifesaver for small breeds of dogs. The vest contains metal spikes, or studs, which help deter attacks from coyotes and other large dogs. So, for small dog owners in areas with coyotes, the vest is a godsend. You can also add a coyote zapper, which gives a small electric jolt or nylon bristles that can deter attacks from coyotes and birds of prey.
Here is more on this ingenious device and how it is saving the lives of small dogs, and cats, everywhere.
What led to the creation of the CoyoteVest?
It all started back in 2011 when the inventor of the device, Paul Mott, lost his beloved poodle, Buffy, to a coyote attack. The coyote snatched Buffy by the neck and carried her off. And even though Paul tried to intervene, there was nothing he could do. Paul tried to chase the coyote down but could not catch up and he never saw Buffy again.
Haunted by the experience, Paul, helped by his wife Pamela, came up with the CoyoteVest to keep other pet owners from having to go through what he did with Buffy. Through a lot of trial and error, the two were able to come up with a whole line of studded collars to help protect small dogs while out in the wild. They also added the quills and other options to make dogs even safer.
Making sure the CoyoteVest worked
To test his invention, Paul also ordered a coyote skull off of eBay. He then used the skull to position his studs and spikes in the optimal areas to keep coyotes from carrying a small dog off. To make the vest even more of a deterrent, he added an optional electric zapper that will shock the coyote, causing it to drop the dog. Paul and his wife even came up with a version especially suited for cats.
An example of a CoyoteVest survival story
An example of the vest's protective powers, Jazz, a Jack Russell terrier, survived an attack by a large dog while in the park while wearing the vest. The vest has become quite popular among small dog owners across the country. Funnily enough, the vests make your small dog look like a little punk rocker.
CoyoteVest specifics
Made from genuine DuPont Kevlar, the CoyoteVest does not limit or impair your pest ability top move around and does not harm them. In addition to its stab-resistant properties, the vest comes in a selection of colors to suit almost any taste. The quills, which attach to the back of the vests come in a variety of bright, neon colors as well, making them highly visible to predators.
How you can buy a CoyoteVest for your small pet
For more information on the CoyoteVest and to order one for your small dog or cat, visit the CoyoteVest Facebook page or the company's Website. Here is a video showing the CoyoteVest being put to the test.
Please SHARE this with your friends and family.