A pack of hounds from Texas is leading the way in the fight against rhino poachers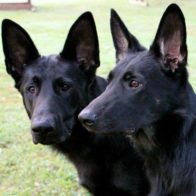 Joe Braman never thought in his wildest dreams that he would end up as a part of the fight against rhino poachers in South Africa. Living in Texas, Braman had gained a reputation as a breeder of coonhounds. So, when Braman was invited to South Africa to demonstrate how anti-poacher groups could use hunting dogs in the fight against rhino poachers.
A small trip turns into something more
Initially, Braman had gone to Africa to do an evaluation and help train a few dogs, it turned into something much more. Soon, the small trip turned into a full-time job and Braman and his hounds found themselves chasing rhino poachers full time near the Kruger National Park, one of South Africa's largest game reserves.
A new type of program was needed
In the past, dog teams were too slow to keep up with the poachers as they had to remain on a leash as they tracked the lawbreakers. Knowing a different approach was needed, South African National Parks asked the South African Wildlife College (SAWC) to come up with a solution involving pack dogs.
"Building a pack dog team is a massive undertaking," Theresa Sowry, CEO of SAWC, told National Geographic. "You need the right genetics, the right training, and, most importantly, the right mindset to bring it all together."
Braman evaluates the program
At the time, funds for the program just weren't available. In 2017, Ivan Carter, founder of the Ivan Carter Wildlife Conservation Alliance, offered to provide funding for the project. That was when Sowry approached Braman in his native Texas with a proposition. Soon, Braman was in South Africa evaluating their program, which he eventually deemed too slow.
"They were pushin' water up a hill," he says. "Their hearts were in the right spot, but they just don't do things the way we do in Texas."
Braman's methods made the dogs too aggressive
At odds with Kruger National Park Johan Van Staaten, Braman returned to the states to train dogs for the program in his own way. The problem was that Braman's methods made the dogs too aggressive. After visiting Braman in the U.S., Van Staaten was able to convince him to pull back on his aggressive training tactics.
The perfect balance is found
The results have been nothing short of remarkable. The dogs that Braman trained have helped to apprehend 54 percent of the known poachers in the area. That has equated to 145 poachers up until September 2019. The dogs work in teams with helicopters helping to protect them from dangerous predators and armed men shielding them from the gunfire of the poachers.
Braman tackles human trafficking
In addition to rhino poachers, Braman is now training dogs to help track down human traffickers in the U.S. Here is a video of an anti-poaching dog in action.
Please SHARE this with your friends and family.