Mom can't find rescue dog – discovers him napping with toddler in sweet moment caught on camera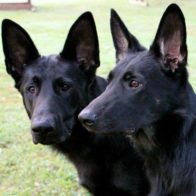 Owning a pet is a lot of responsibility, not only do you need to feed, walk, and take them to the vet, you also have to be sure that they get the love and attention they need. Luckily, many pets make it worth all of the effort as they give us love and companionship in return. One dog, in particular, touched the heart of his owner with his actions, putting a smile on her face.
A dog in need of rescue
Raven was rescued by Kristin Leigh Rhynehart of Raleigh, New Jersey. Kristin and her family had adopted Raven over 10 years before. She quickly admits it was one of the best decisions she's ever made as Raven has brought so much joy, laughter, and companionship to Kristen and her family over the years.
Raven was nowhere to be found
Usually, Kristin can easily find Raven around the house and knew his favorite spots. One day though, Kristin could not find the dog anywhere. She searched all 0f the rooms, including the kitchen and living room to no avail. Eventually, afraid Raven was getting into trouble, she checked the backyard and the garage, but he wasn't in those places either.
Kristen finds Raven in the most unlikely place
The only place she hadn't checked was in her daughter's room. Earlier, she had put her daughter Addison down for a nap. Not wanting to wake her up, Kristen had avoided going into the room, but it was the only place she hadn't checked.
So, she carefully opened the door and peeked inside. The view that greeted her was adorable. She could see her daughter sleeping in her crib. Tucked in beside her was Raven. Kristen quickly shot a video of the two and posted it on YouTube, where it quickly went viral, earning over 6 million views.
In an explanation she posted with the video on Facebook, Kristen said:
"People that say 'money can't buy happiness' have never paid an adoption fee," she continued. "10 years ago, I left a rescue with this little guy, and I often wonder… who rescued who? I gave him a home, but he gave me so, so much more."
The importance of pet adoption
The video and the story behind it are a perfect example of why pet adoption is important. But, even with moments like these, people are still not adopting enough animals from their local shelter. Each year, more than 2.7 million cats and dogs are euthanized due to overcrowded premises
The Humane Society is quick to point out:
"The number of euthanized animals could be reduced dramatically if more people adopted pets instead of buying them. When you adopt, you save a loving animal by making them part of your family and open a shelter space for another animal who might desperately need it."
For more on how you can adopt a pet from your local animal shelter or rescue group, visit The Humane Society's Website. Here is the adorable video of Raven and Kristen's daughter sleeping peacefully together.
Please SHARE this with your friends and family.